About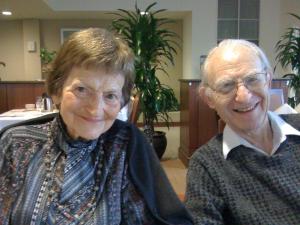 The annual Arno & Gretel Motulsky lecture was established in 2009 to celebrate & honor the career of pioneering human geneticist and Division of Medical Genetics founder Arno G. Motulsky, MD, DSci, and his wife Gretel. This is a trainee-driven annual speaking program for the Division of Medical Genetics. Fellows and residents will select, invite, and host speakers who will add to their educational experiences.
Upcoming speakers
Past speakers
2023 - Marc S. Williams, MD
"Ending the Diagnostic Odyssey: Real-time Genetic Diagnosis"
2022 - Postponed
2021 - Postponed
2020 - Postponed
2019 - Dianna Milewicz, MD, PhD
"Genetic Basis of Thoracic Aortic Aneurysms and Dissections and Other Vascular Diseases: Mechanistic Insights from the Patients"
2018 - The Arno Motulsky Memorial Symposium
2017 - Greg Barsh, MD, PhD
"Genetics of color variation in a post-genome world"
2016 - James R. Lupski, MD, PhD
"From bar to bor and more…Genetics & Genomics of Charcot-Marie-Tooth and Other Diseases"
2015 - Leslie G. Biesecker, MD
"Two sides of a coin: Mosaicism and the molecular taxonomy of disease"
2014 - Huda Zoghbi, MD
"A neural tipping point: MeCP2 and neuropsychiatric disorders"
 2013  - Jeffrey C. Murray, MD
"Some You Win, Some You Lose: Tales From a Career in Gene Discovery"
 2012  - Jim Evans, MD, PhD
"Rare is the New Common: Realizing the promise of genomics in medicine & public health"
 2011  - James D. Watson, PhD
"Genes and Mental Health"
 2010  - Holmes Morton, MD
"Caring for the Patient" in the Time of Genomics Small Science in a Rural Clinic"
 2009 -  Joseph L. Goldstein, MD
"The Metabolic Syndrome: A Vicious Cycle Fueled by Genes and Diet"
The spotlight title goes here
The spotlight subtitle goes here.